Proud supporting Partner of Linux.conf.au: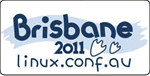 Testimonial:
"After several years experience with 2 of Australias largest hosting providers, we decided to move over to a US based provider who guaranteed 100% uptime. We soon learned that they were just as unreliable. Our business cannot afford to be off-line for several hours, especially first thing on a Monday morning. Lesson learned : Beware of glossy websites promising instant tech-support. We've been with Netvantage now for more than 3 years and have never had a single episode of down-time. Tech support have always solved any issue within the hour no matter what time of day or night. I highly reccommend Netvantage as a truly Australian-based web and e-mail hosting provider."
Dave www.scenport.com.au
Testimonial:
"Artmaterials.com.au has been with Netvantage since 1999, and have found their customer service, and technical support to be efficient, helpful, and well beyond the call of duty.
Not being a web guru, it is so pleasing to talk to a real person straight away. Their technical support is fast and responsive, always assisting in a very professional and helpful manner.
I would never consider going elsewhere, and cannot recommend Netvantage, highly enough."
Dawn Bills www.artmaterials.com.au